Goldendale Observatory Renovation & Addition [ZOOM] - Olympia Lunch Olympia Lunch
Description
Goldendale Observatory Renovation & Addition [ZOOM] - Olympia Lunch.
(AIA Credit approved)
Presented by PatanoStudio & Washington State Parks
Hear about the Observatory's history and its relationship with Washington State Parks
Learn about an Observatory's special Design Parameters
See how the Design process helped to add value and enhance programs.
Lessons Learned from Design & Construction
.
CHRISTOPHER PATANO, AIA, DBIA
STUDIO DIRECTOR at Patano Studio Architecture in Seattle, WA
EDUCATION University of Pennsylvania, Master of Architecture II , 1997
Principal and founding partner of Patano Studio Architecture, Christopher is the lead architectural designer for this contract with 25 years of experience. Christopher's architectural vision emphasizes a structural resolution and specific material language overlayed with straightforward programmatic solutions. As director of Patano Studio, Christopher Patano, AIA has focused his firm's work on public facilities for public clients. Christopher's work over the past 18 years has elevated the design quality of projects in the public sphere. His commitment to design, the user experience and public projects examining societies' interaction with the natural world, has been recognized with international and national design awards.
.
11:45am-12:00pm | Sign-In and Social
12:00pm-1:00pm | Presentation
.
"Goldendale Observatory's exciting new future is here" presentation was an amazing out of this world experience. We have gone where "No chapter has gone before". This was a very educational and enjoyable evening.
The program for this unique State Park was to renovate the existing facility and upgrade it into an Educational/ Interpretative/ Community Center. There is no camping here and most of the programs are in the evening. The original 24" telescope was completely refurbished. There is also a world class solar telescope. Both telescopes allow the public to view the skies which is rare for equipment of this size and quality.
"Dark Skies", red lights, no headlights, and charred siding make for an interesting evening. We learned why Goldendale is the home of the state's observatory - "Dark Skies" and lots of clear nights give you the best viewing of the stars. To preserve a person's night vision you use red lights (like you see in the WW2 submarine movies) and keep car headlights from shining on the telescope.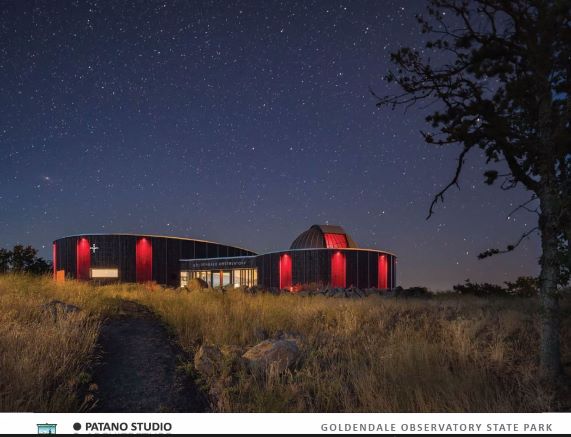 Having a fire resistant building on a rural hilltop with no fire hydrant is very important; charred cedar siding provided the needed fire resistance and a singularly beautiful, natural looking exterior. These details led to a magnificent, stunning building that expresses the soul and purpose of what this state park is all about.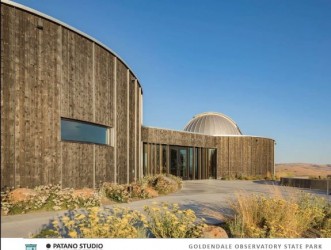 It was enlightening to hear how the new facility was engineered and designed to have a future roof mounted telescope. Upgrading the core area of the telescope to better maintain ambient temperature for better viewing led to the unifying exterior of the facility. It is obvious that the quality of the design and construction was possible because State Parks and Patano set a standard that elevated efforts and commitment of the entire team, even the contractor. The general contractor was a civil contractor because most of the new work was site work. They were very cooperative in moving the unknown discovered rocks to other areas of the site. They worked with the design team to provide the best possible solution when questions arose.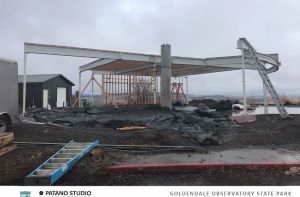 Register online by Thursday, March 18, 2021.
ZOOM Link will be sent the day before the event.