The New Fircrest Pool & Community Center with ARC Architects | Tacoma ZOOM
Description
The New Fircrest Pool & Community Center

Presented by Emily Wheeler, ARC Architects
Hear how the community's involvement and priorities shaped the Master Plan and Design.

Discuss importance of public meetings, providing options, and active listening.

See how the Town's funding shaped the design process and schedule. The public bond vote passed with 79% approval!

Learn more about community center design, including gymnasiums and aquatic specialty design.

Discuss design and construction lessons learned.

Submitted for AIA CEU credit.
.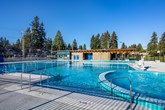 MEETING SCHEDULE
6:00pm - 6:30pm "CSI Squares" Ask and Learn!

6:30pm Presentation

7:30pm Questions and Answers/Closing
Register online by Wednesday, November 3, 2021. Need to register to obtain link for the meeting.